I've been doing a lot of contemplation about my own life lately. By life, I mean everything. My feelings, my actions, my plans, my health. And on the latter, I feel like I've been over-relaxed for the past few years. Have you heard of the 5S? Stress, Sleep, Sun, Sugar and Smoke. The five essentials that can affect our health. I've probably been working too hard and unconsciously it has given me a wee bit of stress. Or maybe a lot. And lack of sleep. Being an entrepreneur and working from home has kept me away from the sun because I don't travel much. But getting morning sunlight is actually good for our skin, you know? On the good side, I do get to avoid the bad pollution and luckily no one around me smokes and neither do I.
Now sugar. I have been very much carried away on indulging myself on sweet desserts and evil food. I eat so much sugar, my God. Candies, milk chocolates, cakes, sweet drinks. I feel so ashamed of myself. It's good to know that I'm on track when it comes to passion and all, but inside, I do feel guilty about my lifestyle.
Last 2 months, I went for a medical check-up and found indications (which I won't specify in detail here) that require me to do a TOTAL CHANGE of lifestyle. I have to go back to my exercising routines, eat less sugary stuff, sleep more, all that to achieve a healthier body.
You can't run away from facts, right? So knowing that my checkup result wasn't all that good really freaked me out. And because of that, I have fully-consciously decided to commit on becoming a healthier Diana. I immediately registered myself to the gym, stopped eating sweets and all those good-looking desserts, sleep longer, cut down on seafood and all that, and basically eat healthier food which uses less oil and more natural ingredients. And trust me guys, sugar is mean. Sugar is pretty but her heart is evil. Fun fact: eating too much sugar causes faster skin-aging.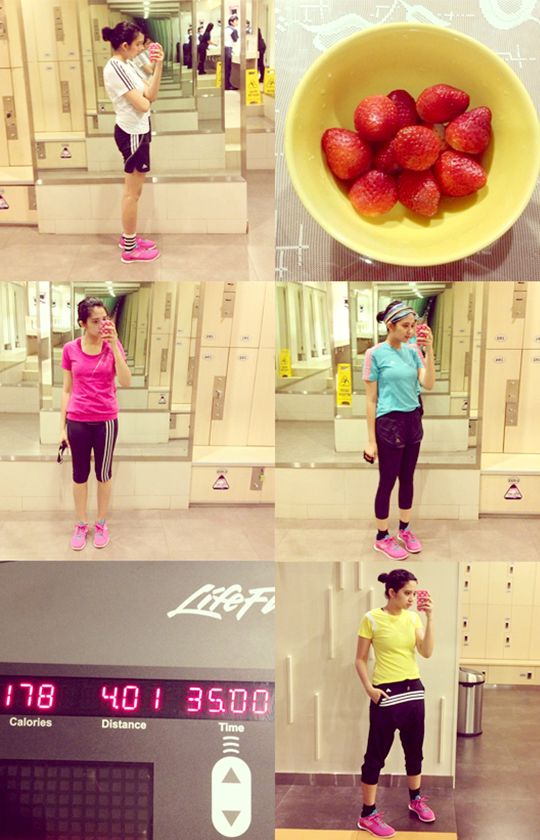 It's been more than 2 months since I "changed", and I feel really good about myself. I can't believe that I haven't eaten any fried food or cakes or ice cream or even bubble drinks for this 2 months, and I've been replacing rice with bread or potatoes. Alhamdullillah. I guess, all this S – (lack of) sleep, (too much) sugar, seafood, stress, smacarons, scupcakes (pun intended) – does have a significant impact on our well-being. We better watch out and keep life balanced! It's okay to let loose once in a while, but then we should always return to our healthy lifestyle. And you know, ever since I exercised regularly and eat healthier food, I feel much happier aaaaaaand my skin has gotten so much better! You see, emotional and physical stress DOES affect our skin. I have less pimples now and S said I glow more heheheh. It's a good start and wakeup call..insya Allah this will remain as my new lifestyle and not just some impulsive short-term thing. Amin! :)